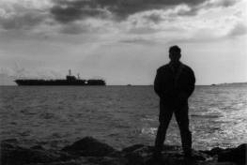 Mi name is Eugenio Castillo. I was born in Las Palmas de Gran Canaria ( Canary Islands ), some time ago. At the beginning of the eighties I moved to Málaga, from where I don´t want to move anymore.
As a kid I always liked planes more than anything else, but it was really difficult to see them in detail oftenly, so I started looking into my town´s port. By the beginning of the nineties, with the Gulf War and the Balkans conflicts I started to get closer to warships and making pictures, with very limited resources and not very organized. I started meeting people that liked the same stuff and that was the start of it.
After finishing my computing studies I wanted to try a bit of the military experience through my military service. I tried positions on all available units of the spanish navy, but with no luck. Unfortunately for me, a computer decided that I should be assigned to an Artillery unit at Ceuta. I finished my military service, and I have to say that i´m proud of having done it, despite some hard experiences. I returned to 'normal' life and I started working for well known technology firms as computing engineer.
Today i´m still working with computers, humbly contributing to spread naval affairs. I dedicate the rest of my spare time ( which is not too much ) to my wife and my three kids.